History
Welcome to the village of Gracehill, a settlement founded by the Moravians in 1759 and Northern Ireland's First Conservation area. Life in the village nowadays is, of course, very different to the 18th century, but the layout of the buildings and the unique Georgian style of architecture remain very much the same.The Moravian Church remains central to the village, facing the square and flanked by the Manse and the Warden's House. The Brothers and Sisters Walks, on either side of the Church, meet at the burial ground or "Gods Acre", which is still in use today.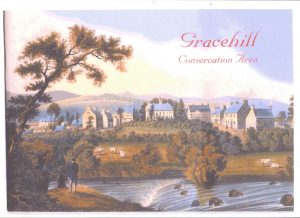 In the 18th century the village was highly structured, all the inhabitants belonging to the Church. They were divided into different groups or "Choirs" each with specific duties and dwellings places, hence for example, the single brethren and sisters' houses and the widows' cottages.
The residents followed trades and crafts for the benefit of the settlement and in return were provided with a home and the essentials of life. The intention was that the settlement should be self-sufficient and support its local evangelical work.
The Moravians were renowned for their high standard of education and there were for sometime, day and boarding schools for both boys and girls.
Gracehill was designated a Conservation Area in 1975 and has won many awards including the Europa Nostra Award.