The Story so far.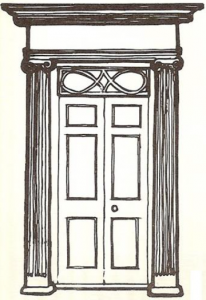 Gracehill Old School Trust (GhOST), is a charitable Building Preservation Trust and is legally constituted as a company limited by guarantee and accepted as a charity by the Inland Revenue under reference XR59054. The Trust was incorporated on 6th August 2002 with the initial aim of saving one of the historic former schools in the village. The trust is run by Trustees drawn from the local community and also the Moravian Church.
It is entirely made up of volunteers.  The Trust developed plans for Gracehill Old School and worked with Ballymena Borough Council to acquire the building and subsequently sought funding in the region of £1.5 million to make the plans a reality. Grants from the Heritage Lottery Fund and others including BallymenaBorough Council, the Environment and Heritage Service (EHS) and Ulster Garden Villages secured the refurbishment of this important listed building. EHS provided £120,000 of the purchase cost of the building in a pilot scheme that was subsequently rolled out across Northern Ireland.
GhOST were delighted to receive support that enabled not only the conservation of the Old School but also the provision of tourist amenities including a restaurant, visitors centre and a historic classroom in addition to space for community use, business use and even an after schools club.
The building is now home to the award winning Millside restaurant, business units, Gracehill After School Club and the visitor facility illustrating the history of Gracehill and its international links in addition to a period classroom.
Over twenty new jobs have been created and a much loved old building has been repurposed to serve at the heart of the community for many years to come.
Following this success GhOST have been involved in a number of projects that have seen an investment in the village of almost £2.5 million.
Projects include the Old School Restoration (C 1770), the Village Square restoration (C1770) and creation of "The 1798 Walk", the Village Shop restoration (1778), the creation of a new walk around the village known as "Bishops Walk" and the installation of a Victorian Style Penfold Postbox to mark the villages historic postal links with the USA.
In addition, since 2003, GhOST have spearheaded Gracehill's aspirations for UNESCO World Heritage Status which will see a number of Moravian Settlements around the world work together in a joint bid.
GhOST is always seeking support so if you would like to contribute in some way do please get in touch!
The Trust's objectives are:
"to preserve and protect for the public benefit buildings or structures of particular beauty or of historic environmental architectural industrial or constructional merit or interest in and near Gracehill in the County of Antrim and to restore renovate and conserve gardens parkland planned landscapes and other open spaces and land related to such buildings or structures".